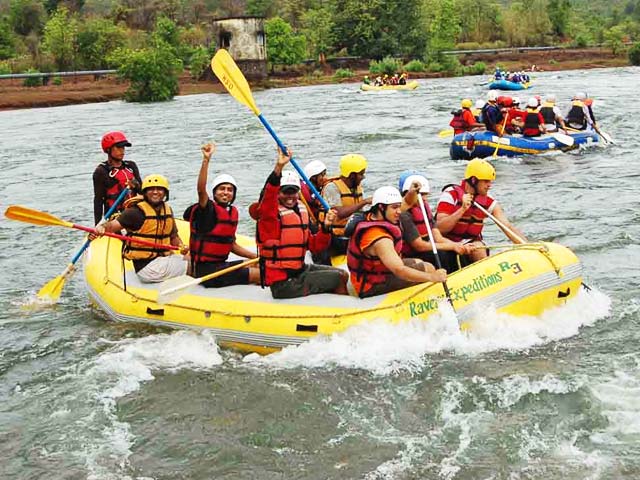 I am sure we have all heard of Rishikesh being a very much adored and beautiful city in India. The place gives you lifetime reminiscences. The state of Uttrakhand is already known to be the temple town with so much of energy and spirituality. Tourists from all over India and the world come to visit the city to try out many adventure activities and visit different cultures. Today, we have come with the top ten activities that you must try out in Rishikesh, and we hope you would like them.
River rafting
A trip to Rishikesh without river rafting would seem incomplete. Your trip will become a lovely one when you get to experience the fierce river and you coming out of it with so many twists and turns. Especially for adventure buffs, this activity is a recommended one! Any time of the year is good for you to go except for the monsoon. The adventure activity will cost you around 400 to 1300 /- per head and the cost depends on the demand and the season. Rafting in Rishikesh is not operational during July, August, and September.
Bungee jumping
If you too love it when you get an adrenaline rush, then this activity is also perfect for you. It's fun to do it with friends. The bodyweight requirement for this activity is around 35 to 110 kgs. Also most importantly, you must have a strong heart to carry out this activity. They make you fall from a vertical rail or a cliff. This certainly with tickles all your nerve endings. Mohanchatti is one such place where you can carry out such an activity.
Giant swing
This activity is again somewhat similar to Bungee jumping, only change that you swing in the air, at a notable height and play with gravity. You would look like a pendulum from far away! This activity is extremely thrilling and the swing goes up to 1 to 1.5 km of distance. This activity can also be tried throughout the year. You get to see the enchanting views from so much above.
Flying fox
You might get confused by the name, am I right? I too got but once I experienced it, I understood how fun an activity is! You can try this out with your group of friends. You shall be tied with a rope and then will be rolled down to the ground at a very high speed up to 160km/hr, and then will be pulled back too. The most entertaining part of this activity you would find is sliding through a horizontal rope that will start from a higher altitude and will end at a lower point. This ride is thrilling and the best part is this activity hasn't to be done alone, you will with your friends together to enjoy it.
Cliff jumping
For people who plan such trips only for adrenaline rushing through their bodies, we have one more fun-filled activity for you. In cliff jumping, you will have to jump off a cliff of about 20-50 feet in the cold waters of the Ganges. You need to know how to swim, for sure and also there are different heights cliffs, for beginners and advanced people. This activity is performed after taking care of all of your safety measures. There is constant expert supervision throughout. Minimally, the activity would cost you around 1750 to 4000.
Rappelling
In this activity, you have to climb a hill with the help of a rope. You for sure will be geared with all safety measures and this activity is done in cliff drop spots. You have to come down the cliff with the help of the rope. The activity might seem easy but it is as tough as other activities. But the tougher, the more entertaining it is, I would say. So you must try this out in Rishikesh and this will cost you 1500/- per head.
Kayaking
Kayaking is one of the best and most-tried activities in Rishikesh. It is an individual activity and it demands the proper fitness of a person who wants to try their hands on it. It is a challenging sport, yet tried and loved by many adrenaline seekers. With expert guidelines, it can be enjoyed completely that will be a wonderful and thrilling experience for all. It is tried in the Shivpuri region. Charges are variable for this activity.
Mountain biking
Mountain Biking is completely a unique and adventure activity to try in Rishikesh. Biking in itself is a very thrilling experience and now imagines biking on the mountainous terrain of Rishikesh. Great feeling, right? Don't forget to wear all your protective gear to explore the mystical city through mountain biking.
Trekking
Who doesn't love trekking? Take any of the trekking routes from Rishikesh and enjoy this activity with your friends. You can reach the most beautiful waterfall by trekking to certain routes of Rishikesh. You will also enjoy the breathtaking views while trekking the mountains and jungles. It is one of the best things to do in Rishikesh that you must try with your friends. Don't forget to capture the mesmerizing views while trekking.
Parasailing and paragliding
This sport is among the best activities to do in Rishikesh in which you get a chance to kiss the sky and witness the magnificent mountains, forests, rivers, and landscape. This will be an exhilarating experience that you will witness along with the beauty of rugged mountains and valleys.